As a guest of Hospitality Apartments, you have several transportation options.
Hospitality Apartments is several blocks away from many hospitals in the Texas Medical Center. The Texas Medical Center is large and can be intimidating, like the downtown core of a big city, so you will want to make sure to plan transportation between the apartments and your healthcare facility.
Transportation options include the following:
MD Anderson shuttle (recommended for patients at MD Anderson)
Your own vehicle
Walking
Houston taxi service
Ride share service, like Uber or Lyft
MD Anderson Shuttle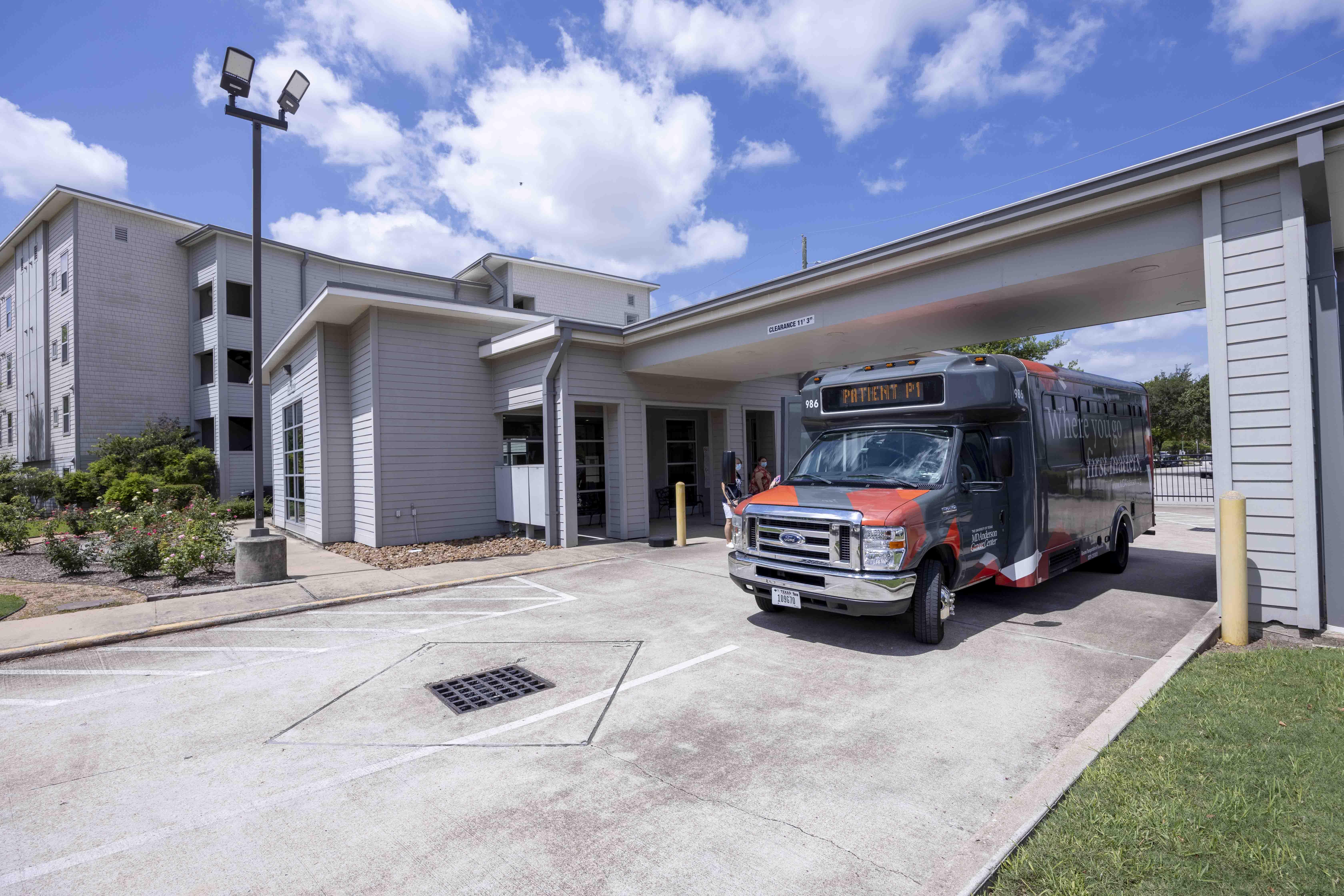 Since a majority of our guests are outpatients at MD Anderson Cancer Center (MDA), the MDA shuttle provides transportation to and from various MDA locations for MDA patients. This is a very convenient option for these patients.
Currently the MDA Shuttle comes to Hospitality Apartments about once every 30 minutes starting at 6:00 am until 7:00 pm and on request, Monday through Friday.
Patient Shuttle P1 or P2.
Shuttles that come to and from Hospitality Apartments are labeled as patient shuttle P1 or P2. One shuttle makes the circular route in a clockwise direction; the other in a counter-clockwise direction.
Catching the Shuttle at Hospitality Apartments
The MDA shuttle picks up MDA patients and their caregivers in the north parking lot, at the main entrance to Hospitality Apartments.
You may wait for the shuttle on the benches outside the front entrance or in the community room, looking out the front window for the shuttle.
Catching the Shuttle at MD Anderson
There are several different MDA shuttles with different routes. When catching the MDA shuttle at one of the MDA locations, be sure to ride the MDA shuttle labeled patient shuttle P1 or P2 and request to be taken to Hospitality Apartments.
MD Anderson Operating Schedule
The MDA shuttle comes to Hospitality Apartments about every 30 minutes starting at 6:00 am until 7:00 pm and on request during other hours, Monday through Friday.
The MDA shuttle does not run on weekends or holidays.
You can track the shuttle via the internet or smart phone at
www.mdabus.com
.
Your Own Vehicle
If you bring your own car, we will provide a car pass that will allow you to park in one of the two apartment parking lots.
If you are planning to drive to your healthcare facility, keep in mind that most hospitals are multi-story buildings in a dense, downtown-like core, and parking may be difficult to find if you do not know where you are going. You will want to call your healthcare facility or visit their website to understand your parking options.
Walking
The Texas Medical Center is about seven blocks north of the apartments, but your healthcare facility may be farther depending on where it is within the medical center.
While walking is an option, be aware that Houston can get quite warm and humid for many months of the year. Consider the distance you must walk and what the day's weather conditions are like.
Houston Taxi Service
Houston has a taxi service called Yellow Cab. You can book a ride by dialing (713) 236-1111, by visiting their website at www.yellowcabhouston.com, or by downloading Yellow Cab's app on your smartphone.
Ride Share Service
Houston has ride-share services by Uber and Lyft. You can request a ride on their respective smartphone apps.