Hospitality Apartments has always been a completely volunteer organization. We have no paid employees.
Volunteers operate the Hospitality Apartments office and help with the care and maintenance of the grounds, buildings and apartments. Our Volunteers come from the Houston area and give of their time and talent on a weekly, monthly or special occasion basis.
Want to volunteer? Please let us know!
Click here
to fill out our volunteer interest form.
Office Volunteers
Office Volunteers greet guests and caregivers, answer questions, answer the phone, put people on the "Waiting List," check guests and caregivers in to and out of apartments, coordinate cleaning and preparation of an apartment for the next guest, fill empty apartments, and help make guests and caregivers welcome.
The Office Volunteer & Guest Relations Coordinator for Hospitality Apartments is Rocky Forshey.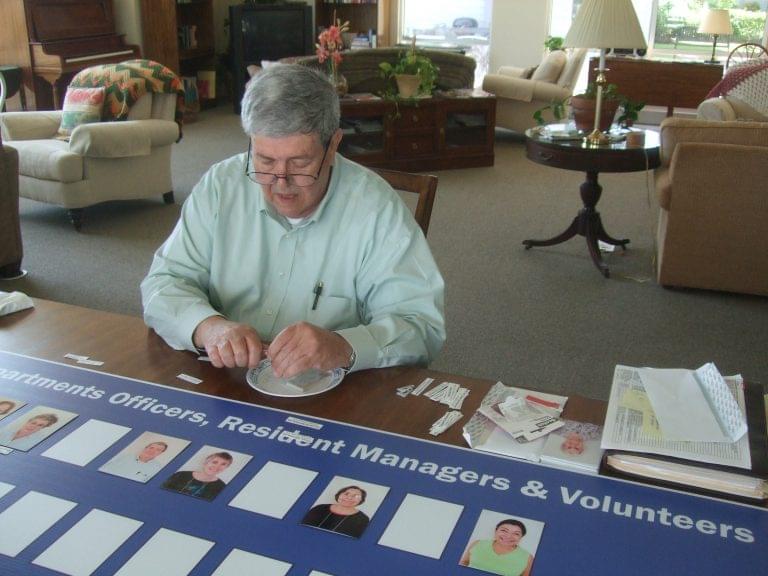 Maintenance Volunteers
Hospitality Apartments is a large physical facility made up of two four-story apartment buildings housing 46 apartments, as well as a third one-story building housing the office, Community Room and community kitchen.
These buildings and apartments get a lot of usage since the apartments are always full, unless there is some kind of maintenance, repair or upgrade in progress. Much of this work is done by volunteers unless professional skills are required, in which case skilled contractors are hired for a specific task.
Our maintenance volunteers help with things like:
Grounds maintenance
Cutting the grass
Gardening
Sweeping the walkways
Garbage removal in common areas
Window cleaning
Carpet cleaning
Painting
Apartment repairs
Appliance repairs
Special cleaning
Sewing
Sheetrock repair
Plumbing
Minor electrical repair
Moving furniture
Special Projects